dress: thrifted, belt: jcrew, boots: franco sarto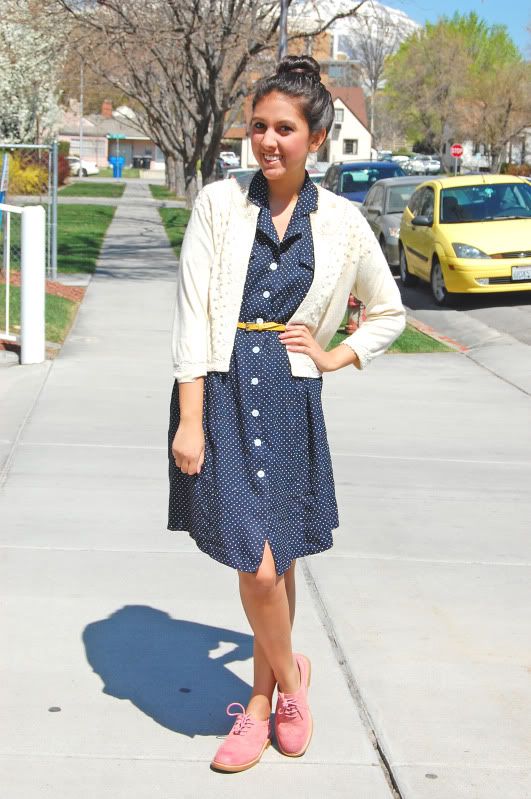 dress/cardigan: thrifted, belt: target, shoes: fossil
So today, we want address something that's been on our minds as of late.
Some people have commented on the fact that we claim to be "poor college students", yet we shop at Anthropologie, J. Crew, Nordstrom and the like. And some people like to rudely call us out on it in anonymous comments.
It's not like we really need to validate our poorness (our bank accounts do that for us), but we felt like we needed to set the record straight.
Yes we consider ourselves to be poor college students. AND yes, we shop at expensive stores.
But that seems impossible, they say. How could this be?
Well here is the big secret. We don't spend a lot of money. We just don't.
When we first started this blog, we kind of wrote about this same topic in
this
post. But since we've grown a little bit since then, we thought we'd re-share our tips on how we save money:
1. Thrifting! Yes, it can be a little daunting. And a little smelly. And you always end up feeling like you need to wash your hands, but thrifting is a fun way to find one-of-a-kind pieces for super cheap.
2. Always take advantage of sales: It's incredibly rare that we buy any thing full price ever. Nothing hurts our hearts more than when we buy full-priced items, then come back a few weeks later to see our precious baby 50% off. Not cool.
3. Sign up for emails: The only people that email us these days are our favorite stores (we're popular). A lot of the time, stores send promotion codes or access to sales exclusively to those on the email list.
4. Ain't too proud to beg: If you think the store is overcharging you for an item (i.e. an item is supposed to be on sale and they're charging you full price), always have them double check the price. They're usually wrong.
Also, if there's something wrong with an item, (slight damage, missing button, washable stain) always ask for a price cut. Call us cheap, but why pay full price for something that isn't in ship-shape condition?
Most of the time, it's fixable anyways.
(yes these tips are all copy and pasted from the other post)
Also, some side notes:
J. Crew offers 15% off for students and teachers if you bring your student ID. And the outlet is always ah-mazing.
If we're ever wearing something super expensive, it was probably a gift.
Hope these tips help!
xoxo