Hey guys! Guess what?
IT'S MADISON'S BIRTHDAY!!!!!!
To celebrate the birth of our sweet, sweet little Madison, I (Lauren) have taken over the blog for the day to bring you a segment I like to call "Why Madison is Awesome".
we gon party like it's your birthday.
Madison. 21 years ago today you were born.
You said you were a chubby baby, but I like to think that your little baby body had to be big enough to accommodate your big heart! (cue the AWWWs)
But really, Mads. Mad Pad. Fertilson Madison. Fast and Furious (but probably more furious than fast). I love you more than you love maple donuts and hot chocolate. And only you know how much that is (a lot). You're the most selfless person I know and always willing to do anything for the people you love. I love that we are always on the same page. I love that you always know what I'm saying when I talk in meows. I love our talks at three in the morning about how we don't know what we're going to do with our lives or what the future has in store, but it's ok because whatever happens, I know we'll always be there for each other.
You're my best friend and always will be.
Even when this happens...
Even when we're really sweaty...
Even when I have to be the man...
Even when you're about to stab me in the back...
Even when we're uncomfortably close...
Even when we're being strong...
But ESPECIALLY when I'm hiding in your maxi skirt.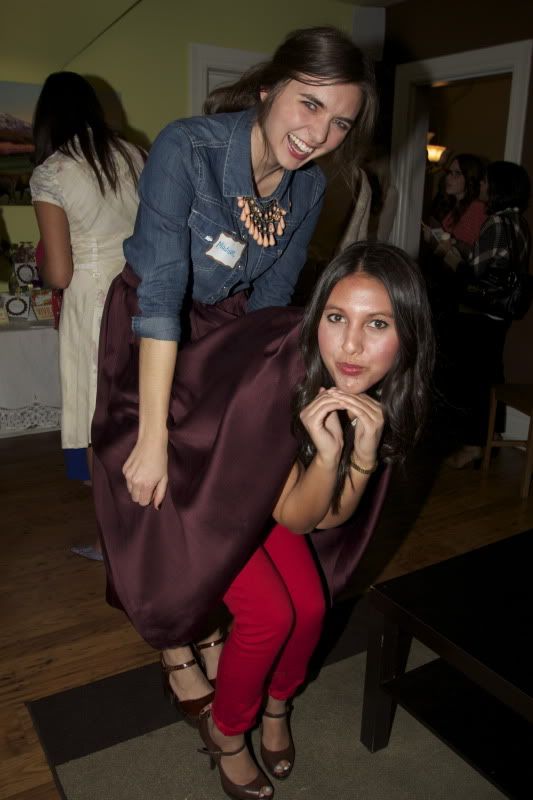 Here's to 21 years of life, 3 years of friendship, and about a 10,000 more to go.
So how about we all give Madison a proper shout out and show her some birthday love!
Love you Mads!
ps. Hunger Games tonight. We're about to get all Katniss on this mother.
xoxo