So you know how we said there was a big announcement...
Yep. That's right. We want to meet you.
Hang out with you. Find out everything about you...
Okay, this is getting creepy.
But in all seriousness, we've come to realize that so many of us in this blogosphere go to BYU, and we all know we've had those moments where we pass by each other on campus, or around town and think, "I totally read their blog..."
So when Elisabeth from
La Vita E Bella
and Brooke from
Silver Lining
contacted us about cohosting a BYU blogger meet-up... you know we were all for it
(Plus, we missed the big Utah Blogger Meet-up last year and we're really bitter).
We've already made some great friends through blogging, so why not transfer the blog world into the real world through a night full of fun conversation, fabulous food, and new friends!
March 8th is still a pretty far ways away, but if you'd like to come, email Elisabeth at
emearnshaw@gmail.com
or let us know in a comment!
We're still working out some itty bitty details so we're just trying to get a general headcount right now.
And just FYI, we know we're calling it a BYU blogger meet-up, but it's definitely not limited to BYU students! Anyone with a blog that lives around Provo, or just wants to make the drive up here can come. The more the merrier!
We have some awesome things planned for the meet-up so we hope to see you there.
If you want to help us make it even more awesome, grab a button and help us spread the word!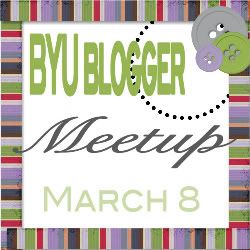 (All buttons link back to Elisabeth's blog. She's the brains behind the operation)
It's gonna be gooooood. And be sure to check back for more details to come.
Can't WAIT!
xoxo