chillin'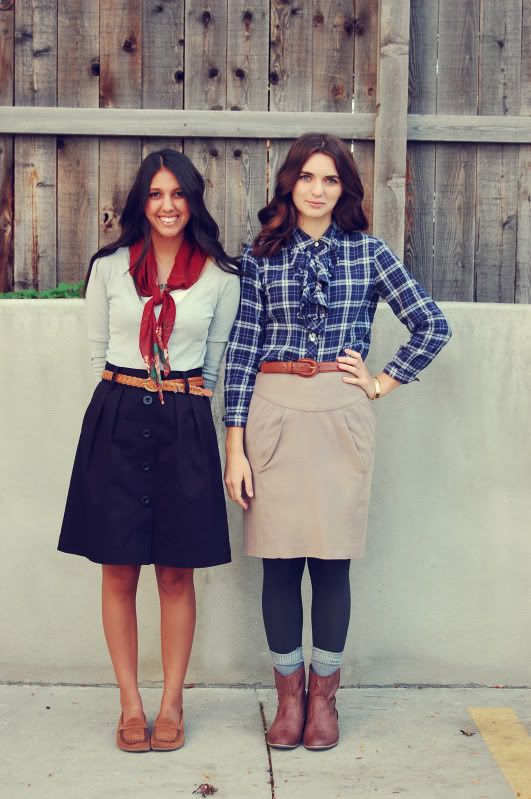 normal
It's pretty self explanatory, we think.
okay, this one's pretty normal too.
everyday we're shufflin
We're in love. It's so real.
Our first album cover
mom, we're scared.
on lauren: sweater: hm, top/bracelet: jcrew, scarf: thrifted, belt: ross, skirt: nordstrom
on madison: top: banana republic, skirt: anthro, belt: thrifted, tights: target, socks: tjmaxx, boots: f21
Hello Bloggers!
Today is a special day!
Seriously, TJ is super sweet, stylish, and hilarious. Need we say more?
She's one of our lovely swap sponsors, so go check her out. Well not her, but her blog. You know.
In fact, these super hot pictures of us are outtakes from an attempt to take decent pictures of the both of us for said feature.
Secondly, we hit our 100 follower mark on this here humble blog! Is it lame that we're so excited?
But really, thanks to all of you attractive people who read our blog. We started this blog mostly out of boredom, but it's so nice to know someone out there likes what we're doing.
Thirdly, we probably should've mentioned this a while ago, but we are totally into swap sponsorship.
So if you have a blog or shop that you want to advertise on Awkward Girls, just send us an email at:
awkwardgirls2@gmail.com

Fourthly, new banner. You like?
FUN!
xoxo