Hey Party People!
So we have some exciting things to share.
This week we're being featured over at the lovely
Gentri Lee
's blog as her Blog of the Week!
What? Us? Yes, us!
She gave us one of these nifty little awards too: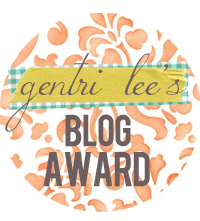 Isn't that cute? We don't know how she does it. But make sure you go check out her
blog
and in case you just can't get enough of us here, then you can see some
sweet guest post action
over there too.
Not that we haven't said it enough, but thanks AGAIN to Gentri! She is so cool. And makes us feel so special.
Holla!
xoxo