For all the new followers out there, this is a little thang we like to call We Likey Wednesday where we reflect on what's been on our minds for the past week. Enjoy!
Girl Crush: Rose Byrne
Rose Byrne is the prettiest person we can think of. Therefore, we have a crush on her.
Boy Crush: Paul Wesley
Please tell us you watch Vampire Diaries. You might not, because all of the sudden vampires were cool, then all of the sudden they were so not cool (it's hard to keep up).
But we think they're cool still and if you don't, he might change your mind.
Because he's the sexiest vampire we've ever seen.
(sorry edward.)
Also, watch the season premiere of TVD with us tomorrow... think about it.
One of our favorite hang out spots in Provo is Guru's Cafe.
Not only do they have amazing sweet potato fries, but they also have karaoke.
What have we done right in our lives to deserve this miracle? The world may never know.
(don't act like you don't hum the chorus of Animal to yourself all day every day)
We Want: Capelets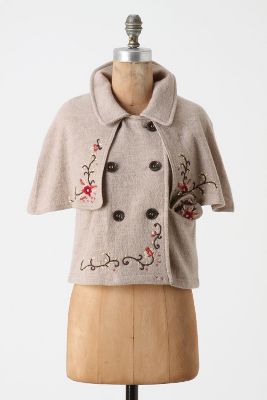 Capelets, like this one from Anthropologie, make us feel cool and classy in a Sherlock Holmes sort of way.
Detective Lauren and Madison on the case.
Okay, that was lame.
Tunes: Blood by The Middle East
We (and probably you too) heard this song at the end of Crazy, Stupid, Love.
And then we fell in crazy, stupid, love with it.
Also, the video is heart melting adorable.
Funnies: Lisa Frank!
For those of you who went to elementary school during the 90's like we did, this might strike a chord.
Sometimes, teddy bears DO wear top hats.
Maybe we wish they actually made this movie...

xoxo