top: gap, pants/glasses: uo, watch: seiko, shoes: steve madden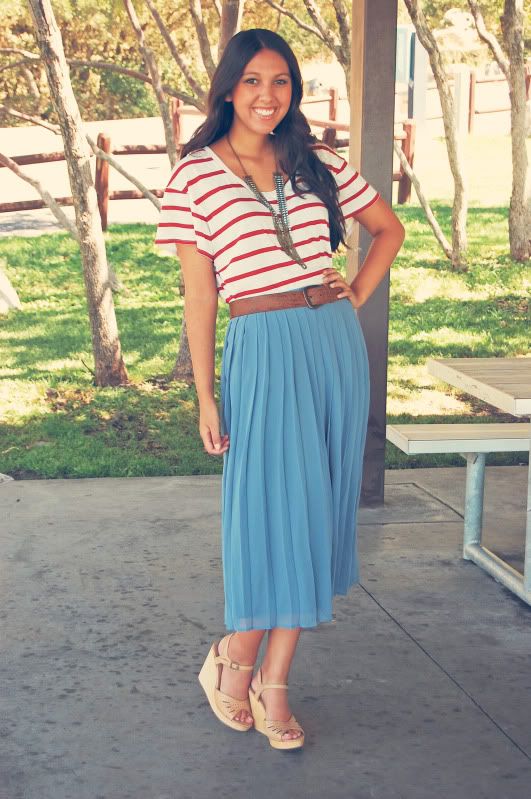 top: f21, skirt: cozy fashions, belt: target, shoes/necklace: uo
-----------------------------------------------------------------------
Remember that time we made a
summer to-do list
? Well let's reflect on these past few months and see what we actually accomplished (and didn't accomplish).
1. Three trips to California (none of which actually included Disneyland. next time, when we're not po.)
2. Concerts up the wazoo. Collectively, we saw Iron and Wine, Decemberists, Tally Hall, Edward Sharpe and the Magnetic Zeros, Ghostland Observatory, Death Cab for Cutie, Joshua Radin, Lupe Fiasco, and more.
And yes, we're name dropping.
3. We saw our best friend get married. Bliss.
4. Water park erry day.
5. More fro-yo than you can imagine.
6. Madison didn't learn how to ride a bike. We're still working on that one...
7. Closet revamp so happened. Like that was even a question.
8. We actually didn't shave our legs more than we usually do. Sorry world, for those days when we wear shorts. Madison claims her legs feel like kittens. purrr.
9. Waking up at 1pm. Going to sleep at 5 am. Sorry Mom.
I guess you can say we were really productive this summer. And now as it comes to a close, we cry on the inside thinking of the next few months of homework, snow, and the inevitable slipping on ice when you're walking to school and having to act like it didn't just happen, or overcompensating with awkward laughter as people stare at you. Living in Utah is fun.
xoxo